Altitude: 465 metres above sea level
Origins: first written record in 1233
Number of inhabitants: ca 11.500
Administrative area (the town of Sušice): 4.564 hectares
Administrative area (municipalities): 78.154 hectares
Villages administered by the town and Sušice suburbs: Albrechtice, Červené Dvorce, Divišov, Dolní Staňkov, Humpolec, Chmelná, Milčice, Nuzerov, Rok, Stráž, Sušice I, Sušice II, Sušice III, Volšovy, Vrabcov, Záluží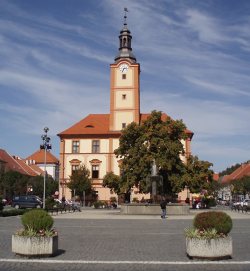 Since 2003 Sušice has been the centre of administration for the following towns and villages: Budětice, Bukovník, Čímice, Dlouhá Ves, Dobršín, Domoraz, Dražovice, Frymburk, Hartmanice, Hlavňovice, Hrádek, Kolinec, Mokrosuky, Nezamyslice, Nezdice na Šumavě, Petrovice u Sušice, Podmokly, Prášily, Rabí, Soběšice, Strašín, Sušice, Velhartice, Žihobce, Žichovice.
The former Royal Town of Sušice is situated in the Svatoborská Highlands along the Otava River which was once gold bearing. The town is often referred to as the Gateway to the Šumava Mountains.
Sušice used to be a gold mining settlement founded along the trade route to Bavaria at the confluence of the Otava and Roušárka rivers. Although the settlement was probably founded around 790 AD, the first written records date from 1233. In 1322 the King Jan Lucemburský allowed the town to build fortifying walls and in 1324 the King confirmed the right to mine gold. One of the biggest tragedies in the town's history was the fire of 20. 6. 1707 when nearly the entire town and its suburbs burnt down. The town was rebuilt after the fire and it gained its present look. Sušice underwent a boom in the 19th century in connection with the foundation of a match-manufacturing industry by the local resident Vojtěch Scheinost (1839). In 1871 salmon started to be farmed in Sušice. In 1888 the railway line came to the town and in 1898 the local hospital was established. Since 1933 cups made of impregnated paper (nowadays plastic materials) have been produced in Sušice by the PAP factory. The town has always been primarily inhabited by Czech nationals, and therefore it did not become a part of the German Empire in 1938. On 6.5. 1945 the town was liberated by the American Army led by Gen. Patton.
Points of interest :
The two-storey Reneissance Town Hall with a five storey tower (open to the public), exhibition space in the attic, a Water Fountain from the Napolenic Era, three burghers´ houses– Voprchovský House no. 40 (presently housing the Šumava Museum), Rozacínovský House no. 48, Krocínovský House no. 49 (known as the Hotel Fialka), St Wenceslas Church, St Felix Church and the Capuchin Church (no architectural decoration), the Virgin Mary Cemetery Church , the Jewish Cemetery (one of the oldest Jewish cemeteries in the CR), the Šumava Musem (permanent exhibitions, such as Sušice match manufacturing industry, Bruno Schreiber´s glass collection etc., exhibition space), Mechanized Christmas Crib (one of the largest mechanized Christmas cribs in the CR. This spectacular example of local wood carving skills depicts the historical town of Sušice, its crafts and some of the important landmarks of the Šumava region. In total, there are 150 movable and 150 fixed figures, 35 houses and it covers 16 m2)
Observation Points:
The Chapel of the Guardian Angel on the top of the Stráž Peak (552 m above sea level), the Svatobor Peak (845 m above sea level ) with a chalet and an observation tower (31,6 m), the Žižkův Peak (618 m above sea level ) with a statue of a large chalice
Sporting options: football and athletic stadium (artificial surface), winter stadium, volleyball and tennis courts, sports hall, fitness centres, spinning, skittles, bowling, squash, skating park, outdoor swimming pool, paragliding runway, walking, cycling, water sports, winter sports, horse riding