Altitude: 716 above sea level
Origins: first mentioned in 1352
Number of inhabitants: 568
Administrative area in hectares: 8818 ha
Settlements falling into the administrative area: Bradné, Březí, Čachrov, Dobřemilice, Chřepice, Chvalšovice, Javorná, Jesení, Kunkovice, Onen Svět, Předvojovice, Svinná, Zahrádka.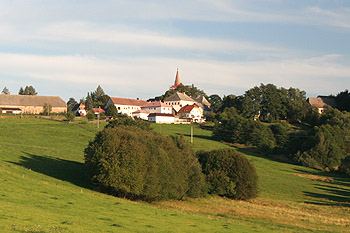 In 1380 – 1390 Vilém of Čachrov built an extensive fortification above the left bank of the Ostružná stream. A massive tower with Gothic windows and portals has been preserved till the present times. The fortification was entered via a portal, which has not survived, on the first floor level and then a narrow passage would lead one to the living quarters. The building is being reconstructed and it will be used for cultural events organised by the village.
Another point of interest is the Gothic Church of St Wenceslas dating from 1360. It was reconstructed in the 18th century. In 1804 a tower was built onto the Church.
In terms of industry there were graphite mines in the area, Kordík lime works and a brewery. In 1901 one of the first cooperative power plants in the country was built in the village following the design made by František Křižík. In 1904 Čachrov became a market town.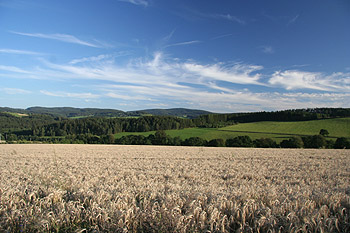 There are several walking routes going through Čachrov. The green route leads to Strážov and Keply, the blue one will take you along the Ostružná valley and the Velhartice castle. An open-air museum of traditional Šumava architecture of log houses is being constructed underneath the castle. The local area is popular with mushroom pickers and hikers. The Czech author, Jan Werich, fell in love with this place and used to come here to spend his holidays during the years of 1946 to 1980.
Cyclists might like to explore the circular cycling route no. 2037 which is 13 km long and which is connected with a network of other cycling routes. In winter there are cross country skiing tracks available and ski lifts which are only about 800 m from the village. There are several pensions in the village offering food throughout the day.