Altitude:  880 above sea level
Origins:  1749, 1992 (formerly Military Area Dobrá Voda)
Number of inhabitants:  148
Administrative area in hectares:  11000 ha
Settlements falling into the administrative area: Prášily, Nová Hůrka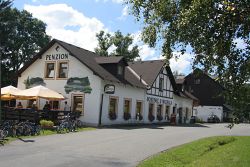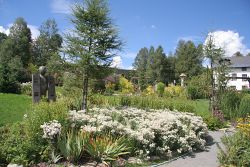 Originally, Prášily was founded as a settlement for glass makers from the Gattermayer glass works in 1749. The local glass works specialised in the production of mirror glass but the production finished in 1824. The paper mill founded in 1819 was one of the oldest in Bohemia and the quality of its production was such that it was supplying paper for the president' s office. Unfortunately, it burnt down in 1933. During the First Republic (1918-1939) Prášily became an important tourist resort comparable with Špindlerův Mlýn in the Krkonoše Mountains. The village came near to destruction in the period of 1945-1991 when the army occupied this area, but nowadays it is yet again a lively resort with many tourists coming to this area.  
In 1997 the chalet of the Club of Czech Tourists was opened on the occasion of opening a nearby border crossing of Gsenget (ca 6 km along the yellow route). The yellow route is crossed by the red one, called Hubačova Trail, leading to the Laka Lake which is the smallest (2,53 ha) and highest located lake in the country (1096 m). Water leaving the lake goes into the Jezerní stream and the Křemelná stream. There are peat islands floating on the surface of the lake. The lake got a mention in the Karel Klosterman´s novel "Glassmakers".
If we follow the red route in the opposite direction (ca 5 km from Prášily) we will reach the Prášily Lake. Its origins go as far back as the Ice Age. It is 15 metres deep and surrounded by 9 metres of granite boulders. On the shore there is a stone memorial to O. Kareis, a student who got drowned here in 1927. Behind the lake (9 km further down the trail) there is the Poledník Peak (1315 m above sea level) with its 37 m high observation tower which was open to the public in 1998. It offers magnificent views of the central Šumava and the Bavarian Forest. When the weather is good, one can see as far as the Alps.
If you follow the green and red trails you can walk from Frantův most via Poledník to Javoří Pila. This route takes you through the first zone of the National Park and it is open only from 1.7. to 30.9. It is closed for the rest of the year to protect the nesting period of the wood grouse.  
Apart from routes for walking, there is a great number of marked cycling and skiing routes going through Prášily.