What does the word "Šumava" evoke? The word 'šumět´ makes one think of rustling leaves in hundred years old trees, of the sound of the river Vydra flowing over boulders in the river bed, and of the raindrops falling onto the peat bogs. But mostly it is about the peace and quiet, the air of eternity, and the genius loci of this place which cannot be denied…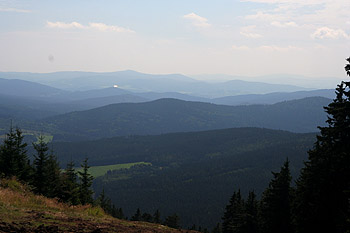 Over the course of centuries
herdsmen came to inhabit this area and later with the development of trade, many trade routes began to lead to the local fortified castles (Pajrek, Kašperk and others). Mining industry became prominent in the 14
th
century and new towns originated around the gold and silver mines, such as Kašperské Hory. Thanks to the growth of the glass making industry, people started inhabiting areas situated higher up in the mountains (e.g. Filipova Huť or Borová Lada). People who came to settle down here made Šumava what it is today. All their endeavours have left imprints on the local area and their achievements are well documented in the
numerous
museums of the region
(e.g. the Museum of Motorcycles, Toys, the Šumava Museum, The Museum of Glass Making Industry, and also the amazing Vchynicko-tetovský canal which is an artificially created water course 14.4 long used as a fairway for floating wood). Apart from the typical Šumava products made of glass and wood, local people also created a rather
unique cuisine
. Where else could one taste such culinary wonders as ´
hubník
´, ´
štrec
´, ´
šmorna
´, ´
kuba
´ or ´
cmunda
´?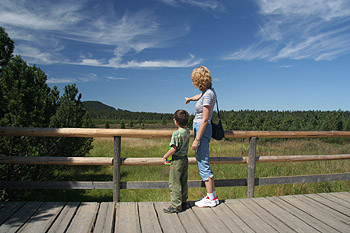 The origins of tourism
go back to the second half of the 19th century. The Club of Czech Tourists had several chalets and observation towers built in this area and mapped kilometres of marked trails. In particular, the western part of the Šumava region is a true heaven for tourists. One can choose from easy walks through beautiful countryside to intensive hiking and nord-walking which is so popular these days. One could say that the local countryside has a magic, healing touch so needed in the times we live nowadays when everything is so rushed. From some places one can
see as far as the Alps.
This area really offers something for everyone. Even home loving people will appreciate walking round the woods picking blueberries or mushrooms and turning them into divine dishes at home remembering their holidays.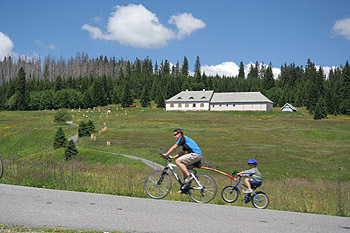 Apart from hiking
one will also find that this area is superb for
cycling.
The Microregion Šumava – Západ is crossed by a long distance cycling route no. 33 – The Šumava Artery (four out of 21 sections covering about 70 km). Local cycling routes are abundant covering literally hundreds of kilometres and they are all very well marked ranging from easy routes to very demanding ones. Beginners might enjoy the circular route around the Jezerní Peat Bogs which starts in Kvilda. Experienced cyclists will love the mountainous routes, such as no. 2100 which will take you to the observation tower at Pancíř or no. 2113 leading to Poledník. During summer months there is an Ecobus running. This service is mostly enjoyed by cyclists but not only by them.
In winter
there are many kilometres of well-kept
cross-country skiing routes
available for skiers of various abilities. Western Šumava is a heaven for
downhill skiing enthusiasts.
The biggest winter sports complex Železná Ruda - Špičák encompasses three skiing areas: Špičák, Belveder-Samoty and Pancíř offering the best skiing conditions in the Šumava Mountains. There is a chair lift at Špičák and a cable car at Pancíř. The skiing complex in Kašperské Hory has also become very popular with skiers over the last couple of years. Many hotels and pensions offer short training runs for children. Many accommodation facilities offer outdoor and indoor pools, tennis courts, minigolf facilities and have various sporting equipment for hire.
Horseriding is becoming increasingly popular, in particular with families. Another service gaining more and more popularity is husky sledging which can be experienced all year round – in winter with sledges and in summer a cart is used.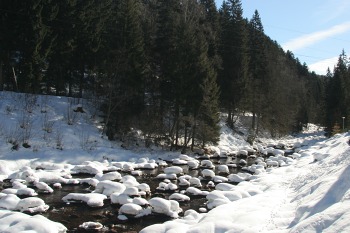 During your stay
you might come across some typical representatives of the Šumava wildlife. Apart from big predators like bears, wolves and wild cats, most species have survived till present times. On higher grounds the pollution of water courses is absolutely minimal and thanks to this Šumava is one of the most significant areas where river otters still live. To name but a few typical birds one might see around here, we could list the following: wood grouse, black grouse and hazel grouse. The unique fauna for invertebrate species living in peat bogs made Šumava one of the places listed in the Red Book of the IUCN eco systems.
Šumava is also rich in typical stands for mountainous areas, e.g. flowery beech woods and climax spruce crops. Thanks to the numerous nature trail paths in the area (e.g. NT Povydří, NT Tříjezerní slať, NT Vchynicko-tetovský canal etc) visitors can learn about plants typical for peat bogs, marshy dwarf pines, debris flow slopes and stone seas. The richness of vegetation of the Šumava Mountains is not based on a variety of species or multitude of species, the whole area is astonishing thanks to the combination of varieties and preservation of unique communities.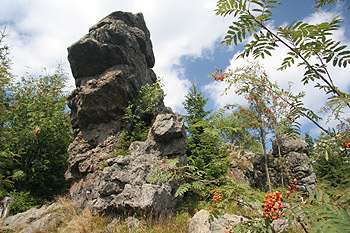 The

Šumava Mountains are the oldest mountains in Bohemia.
They cover a wide, continuous area 120 km long and approx 15 km wide (at places 45 km wide). They form the most extensive preserved nature area in Central Europe together with the Bohemian Forest and the Bavarian Forest in Germany and Austria, and thus this area is often referred to as the ´green roof of Europe´. The area has been made a Protected Nature Reserve in 1963 and in 1991 the Šumava National park was formed being the largest national park in the Czech Republic covering 690 km
2
.
It is possible to cross the borders via many border crossing points. The Microregion strives to enlarge the network of border crossings and to widen the possibilities available for tourists from both sides of the border.
There is a wide network of Tourist Information Centres in this area we would recommend you to visit before or during your visit to this area.